Don't want to read? Jump to the video direct and CLICK HERE!
Luxury refiner DMC is developing their Lamborghini kits faster than ever these days. They left the competition far behind by launching their Limited Edition LP1088 recently, and are now proud to show the even rarer DMC Huracan Edizione-GT Spyder version:
The DMC LP1088 once again puts the reference among Huracan projects. It features a full body package that is so aggressive – it could send chills down the spine of people… when she appears in your rear view mirror, you instinctively move out of the way on the Autobahn.
The package was developed under DMC's #EdizioneGT label. It's a green card for DMC's engineers to create a product without boundaries. The aim was to produce the best kit, without any limitations (e.g. market cost)… a better pedigree would be hard to come by.
The DMC bumpers, both front and rear, completely replace the original Huracán units. This way you can convert your car back to factory look at any time, an exclusive feature only offered by DMC. Along the profile we find the beautiful DMC side skirts. Together with the rear diffuser they not only look stunning but support an improved road handling as well.
And let's not forget one of the most beautiful rear wings ever to be offered for the Lamborghini Huracán: DMC created a German TUV certified spoiler, as an homage to the old Countach. But in contrast to the 1982 original, it's actually functional!
Adjust it in three angles: GT Mode, Cruise Mode and Fun Mode. They even supply a 10 page Wind-Tunnel and CFD Analysis, if you are interested in the wing's technical specs.
The DMC Huracán Stage 4 not only looks fast, but with a twin turbo charged V10 pumping out 1,088 hp she is even faster than she looks. Naturally such a power increase not only happens from just installing a pair of turbochargers … the original engine needs some serious modifications as does the transmission and gearbox to be able to cope with the extra power. The maximum torque is now increased to 1.000 Newton metres: It pushes the car on its first 100 km/h in 2.69 seconds and ends in a maximum speed of 345 km/h.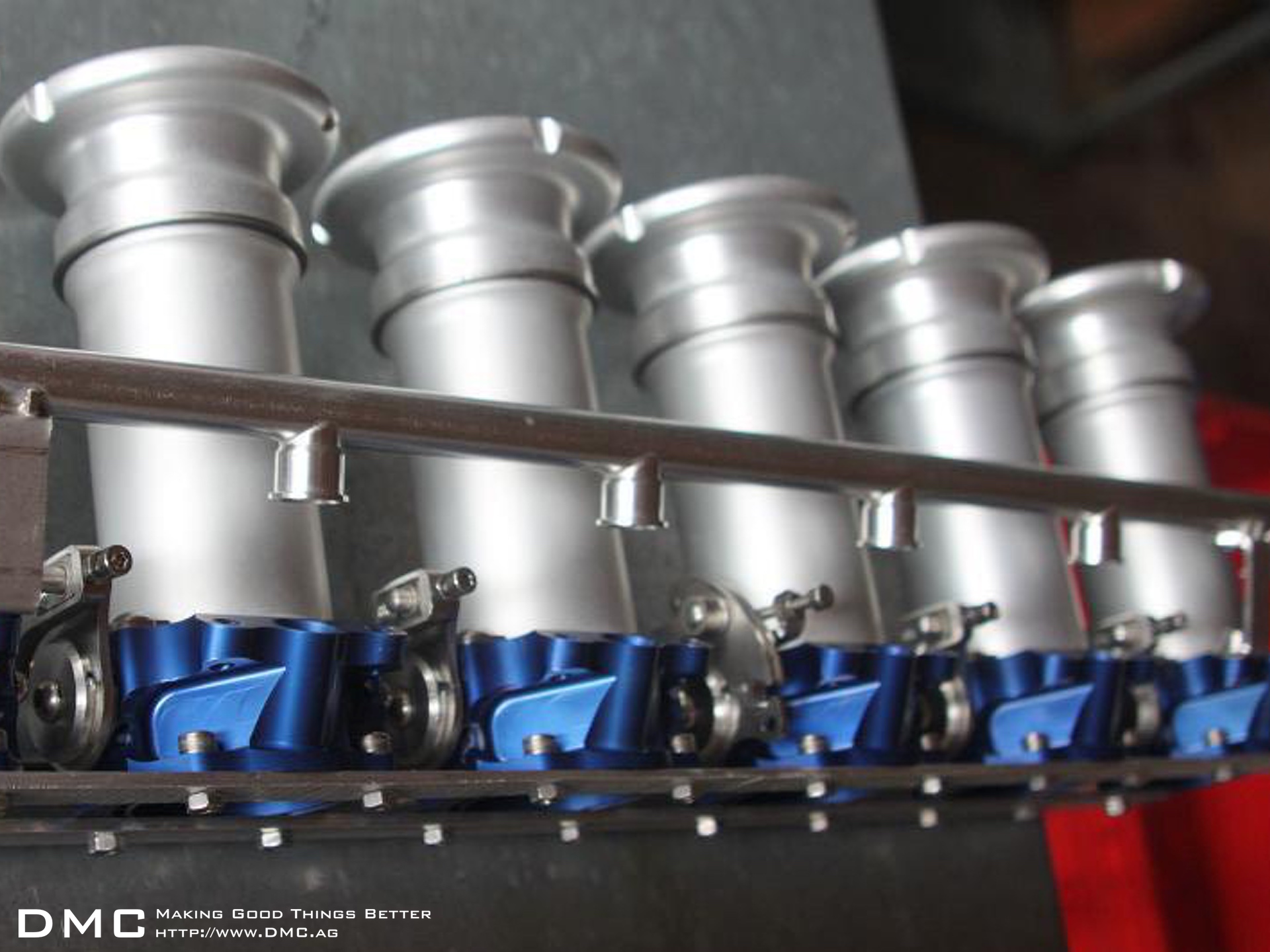 While most DMC Lamborghini owners modify the exterior of their personalized Raging Bull, the company is able to comply with just about every request an owner might have. Even creating a unique interior can be as simple as a custom steering wheel, or a full cabin make-over. DMC offers an array of Italian leathers with custom stitching patterns. Combined with bespoke carbon fibre parts, they merely form the top of the list of modifications DMC can perform inside their custom cars … special floor mats with the customer's initials, custom pedals, door panels, central console and firewall modifications are all part of the package when you put together your very special Lamborghini based DMC exotic.
The range of custom wheels available from DMC is almost endless, all handpicked from the best suppliers and in many cases exclusively made to order for DMC only, the sky is the limit when it comes to selecting a set of wheels for the DMC Huracán, the customer is always right, but the people at DMC will be able to advise you to pick the best wheel for your car. For the LP1088, they chose a set of forged alloy wheels size 9×20 and 12.5×21 inch with Pirelli P-Zero tyres 245/30R20 at the front and 325/25R21 at the back.
Over a time span of only 3 years DMC has managed to release no less than 7 different aerodynamic tuning packages for recent Lamborghini models like the Aventador and the Huracán. Safe to say DMC quickly became one of the most important Lamborghini tuners in the world … and talking to the CEO himself it becomes clear that they are not slowing down any time soon.
MUST SEE: VIDEO – DMC LP1088 Huracan Lamborghini
Photo & Video Credits: DMC Exotic Car Tuning Limited
ABOUT DMC:
DMC – History since 1956: VIDEO 1
DMC – How it all started: VIDEO 2
DMC's extraordinary vision is making good things better. The company was founded in Germany 2009 and quickly expanded to Hong Kong and the Middle East where it developed its major hot-spots.
Over the years, DMC became the de-facto reference for Lamborghini refinement. Their works on the Diablo, Murcielago and Gallardo paved way for its initial history. Bit the company earned over-night fame when it launched the Aventador "MOLTO VELOCE" in 2012. The MV, as its also called, has so far been installed on an estimated 10% of Asian and Middle-Eastern cars, with Dubai being the city with most DMC cars in the world.
In 2015, DMC was accepted as exhibitor of the renowned Geneva Car Show, after being on a waiting list for nearly 5 years. It was time well spent though, because joining the Salon means being part of the global elite of automobile brands. There, it is located next to iconic companies that make hyper cars, reflecting DMC's mission to be a luxury brand, rather than a part maker.
It's more than just buying carbon fiber, it's a ticket to become part of our engineering vision. You will be part of our dreams, our brand and can live #TheDmcLife. The hashtag as long been accepted as a lifestyle of a new generation that loves cars, clubs and good good.
DMC doesn't change your car, it changes your life.